In 2012 I had the pleasure of working on a very interesting project for the
Fossil and Heritage Centre on Burray, Orkney
. Contacted by
Flagstone Creative
, they had been commissioned to bring a new look to the fossil display which although packed with interesting items, was dry, academic and inaccessible to the general public. My brief was to help capture a spark of excitement and new lease of life for the long dead Mid-Devonian Fossil Fish in their collection with illustrations for information boards.
Working with wildlife artist Chris Tomlin producing lovely colour paintings for the main part of the boards, I was charged with creating black and white representations of six aquatic fish 'monsters' from the past, Coccosteus, Glyptolepis, Pentlandia, Tristichopterus, Mesacanthus & Cheiracanthus. There was a real need to inject some motion and life into these and move away from the plain, motionless encyclopedia like visuals from before and happily my roughs seemed to hit that mark straight away.
I wanted to capture a very close look to the final illustrations with my pencils. Not only did that give the client a good idea of the final piece but helped with correcting any details that the centre's specialists and other experts might have spotted. This approach helped keep these alterations to a minimum and I was quickly onto the final inked pieces.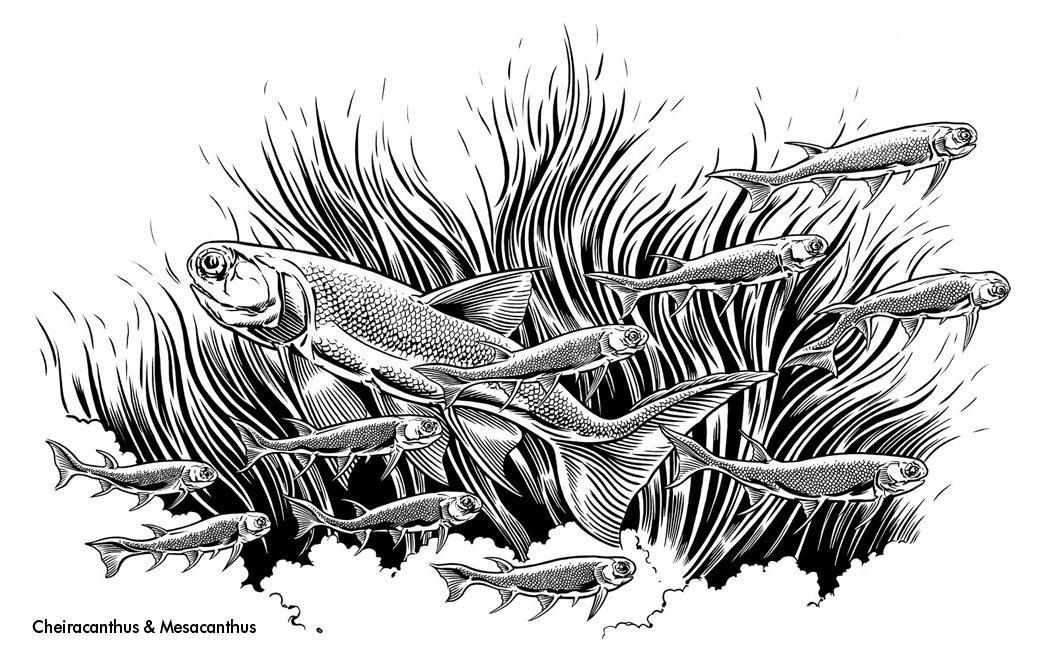 The refit of the fossil room with the new displays, fossil pieces and information has been a great success and you can see by these photographs the big difference this has made to the centre. I've worked with Flagstone Creative before and as usual it was a fun and stress free project from start to finish. Many congratulations to them for bringing the project together so well with a display that captures your imagination.